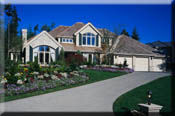 We've been providing quality residential appraisal services in the Minneapolis/St.Paul area of Minnesota since 1983. Our geographic coverage area is primarily the seven counties (Hennepin, Ramsey, Scott, Dakota, Anoka, Carver and Washington) of the Twin Cities metropolitan area. Assignments outside these counties may be accepted on a case by case basis for a negotiable fee. We are fully licensed, insured and certified. We are FHA/HUD approved and are members of the National Association of Real Estate Appraisers and the National Association of Realtors - Appraisal Section.
Our experience in the appraisal field has taught us the need for precise and accurate data when conducting appraisals, as well as the swift completion of all reports, addenda, etc. Our reports provide defensible values that stand up under scrutiny. In addition, our analysis is reported in a manner that you can understand. Subsequent to filing your report, your actual appraiser (not a secretary or office manager) will work with you to ensure your complete understanding of all findings.
Our firm specializes in single family residences, condos, townhouses and 2-4 unit residential properties. Our services to private party individuals or firms include PMI (private mortgage insurance) removal, remodeling inquiry, estate valuation, divorce equity settlements and all types of consultation.